Golf Beginner's Program
You've heard about the game of golf but not sure how or where to start? Here at Top Golf Asia we designed an easy to learn Golf Beginner's Program. The program is customized to create a fun, friendly and unintimidating atmosphere while learning. Learn to play golf alone or simply create your own group with friends or family to make it more fun and to encourage each other for peak performance.
Our 10 week program offers a strong foundation and understanding of the game of golf. It covers the basic fundamentals of the equipment (golf clubs), swing technique, short game technique, golf course play, rules and etiquette. Completing this program will allow you to advance to the Intermediate Level where you will learn the finer details on the swing, short game and how to practice and play more consistent.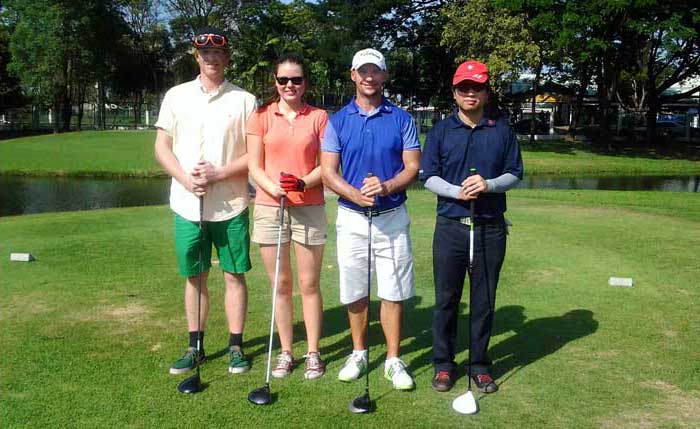 Beginner's Program Details

Week 1 – Equipment and the Golf Swing

Equipment understanding and safety
How to Setup (Grip, Stance, Posture, Ball position)

Week 2 – The Swing

Backswing Position1
Practice with short irons

Week 3 – The Swing

Backswing Position2
Importance of the Swing plane
Video Analysis

Week 4 – The Swing

Backswing Position3
Full Backswing
Faults and Drills

Week 5 – The Swing

Importance of Striking the ball
Impact and Follow Through
Practice and Drills

Week 6 – How to use Woods

Equipment understanding
3 Wood practice and Drills

Week 7 – Pitching

Art of Pitching Techniques
Club Selection
10-30 Yard practice

Week 8 – Chipping

What is Chipping?
Set-up fundamentals of Chipping
Chipping Technique

Week 9 – Introduction to Putting

Equipment understanding
Art of Putting and Set-up
Rules and Etiquette on the green

Week 10 – Video Analysis

Swing Check with Swing Analysis Software
Understanding your own Swing
Practice with a purpose
BEGINNER PROGRAM PRICE LIST NEW

  (8 Hours swing , 1 Hour Putting, 1 Hour Chipping, 9 Holes on course lesson)

1 Student
18,000 THB
2 Students
11,000 THB per person
3 Students
 9,000 THB per person
4 Students
 7,000 THB per person

*Terms and Conditions

All lesson fee to be paid prior to first lesson

All lesson fees excluding range balls

All lesson fees include green fee and caddie fee at BangNa Navy Course only.

Program expire date is 6 months from the date of purchase.

Free equipment available