Golf Course Lessons in Bangkok
9 Holes/18 Holes On-Course Program
As we all know, golf is a fun, exciting and challenging game, especially golf in Thailand. We all play golf for different reasons but whatever the reason… It's always about the end result, SCORE.  Our goal is to help golfers improve their playing ability with personalized on course training programs as opposed to golf swing lessons.
By playing more golf, you practice and execute every shot in golf from the tee box to the putting green.  To score better you have to learn how to play better even when your swing is off. We help you understand the dos and don'ts in your game and provide techniques to help you adjust and fine tune your game when things go wrong.
It is Top Golf Asia's objective to ensure that every existing and potential customer reaches a peak in game performance never before realized, whilst enjoying a relaxed and informative quality of golf instruction drawn on over thirteen years of coaching experience through innovative, effective swing mechanics
Improve your tee shots, fairway play, rough play and turn 3 shots into 2 with our Top Golf short game program
With more productive training you can improve all aspects of your game and break through to the next level
Lower your handicap
Learn how to find your lost swing on- course
With On-course swing analysis software, you can understand your "golf course" swing better.
Play with a professional and see how they do it.
Learn how to take your driving range swing to the golf course.
Understand what you doing wrong and how to fix it.
With our progress analysis program you can play better and score better in no time!
[divider]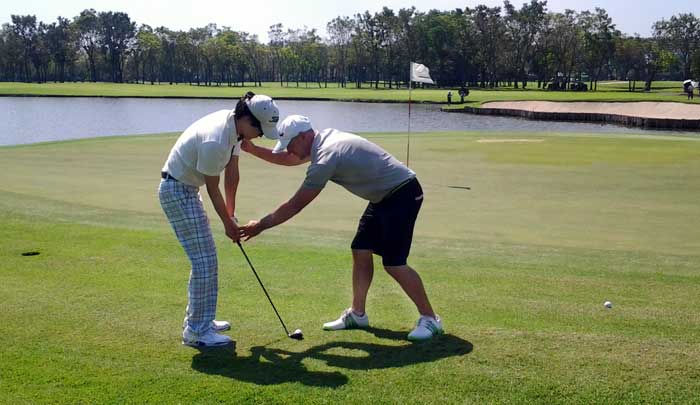 [divider]
[custom_table]
ON COURSE PROGRAM NEW PRICES

Students
9 Holes
18 Holes
1 Golfer
3,000 THB
4,000 THB
2 Golfers
2,000 THB p/p
3,000 THB p/p

Terms and Conditions


All lesson fee to be paid prior to the first lesson
Course fee exclude Green fees and Caddie fees
Course fee exclude range balls
Save